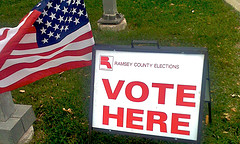 Voters in Butler County may be using the current voting systems for the last time.
Earlier this month, the Butler County Election Board approved the purchase of a new voting system that is paper-based. Voters will actually use a pen or pencil to color-in the oval next to a candidate's name and then drop the ballot into a secure ballot box, where it will be scanned into a computer and tabulated.
Last year, the state mandated that all counties switch to a voting system that had a verifiable paper record that could be referenced should there be a discrepancy.
Butler County Elections Director Shari Brewer says the county plans to have the new system up and running by the November 2019 general election.
The post Tuesday's Primary Might Be Last For County's Touch-Screen Voting System appeared first on ButlerRadio.com – Butler, PA.