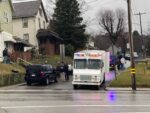 Two local residents are behind bars following a drug bust Thursday morning in the city of Butler.
Law enforcement with the Butler County Drug Task Force and Butler City Police served a search warrant at a residence around 9 a.m. in the 500 block of Center Avenue, near St. Michael's Church.
Police seized over nine grams of suspected crack cocaine, 14 full white stamp bags with a blue caricature stamped on them, and other drug paraphernalia.
Residents 44-year-old Christopher "Ralphie" Reinhart and 44-year-old Michael Guerriero aka Joshua Tuitt, were arrested and charged multiple felonies including Possession with Intent to Deliver a Controlled Substance and Criminal Conspiracy.
Reinhart allegedly admitted to police that both men had been selling fentanyl and crack cocaine to support their addictions. Both have been booked into the Butler County Prison on bond of $150,000 and above.
The post Two Residents Charged In South Side Drug Bust appeared first on ButlerRadio.com – Butler, PA.