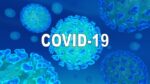 According to Wednesday's report from the state Department of Health, nine new cases of COVID-19 have been added to the Butler County total.
There were also 179 negative tests reported in the county, which results in a positivity rate of 4.8 percent.
Statewide, there were 705 positive cases, 12 new deaths, and just under 13,000 negative tests.
As of Wednesday morning, Butler Memorial Hospital was treating four patients for coronavirus-related symptoms, with one in the ICU.
The post Wednesday Update: Nine New Local COVID-19 Cases appeared first on ButlerRadio.com – Butler, PA.