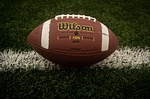 The Oakland Raiders defeated the Kansas City Chiefs 31-30 in a wild Thursday Night Football game. The Raiders scored the game-winning touchdown on an untimed play due to a Chiefs penalty. The Raiders improved to 3-4. The Chiefs fell to 5-2.
The Pittsburgh Steelers host the division-rival Cincinnati Bengals Sunday at Heinz Field. Kick-off is 4:25pm. Hear the game on WISR 680am beginning at 2:25pm.
Steelers safety Mike Mitchell has been fined by the NFL more than $48,000 for a low hit on Kansas City quarterback Alex Smith in the fourth quarter of their victory over the Chiefs last week.
High School Football tonight:
–Butler will visit Pine-Richland, who are one of the top ranked teams in the state. Kick-off is 7:30pm. Hear the game with Ron Willison and Craig Lucas beginning at 7:15pm on WBUT 1050am and at wbut.com
–Knoch is home to Ambridge tonight. Hear the game on WISR 680am and at wisr680.com with Scott Briggs and Dave Bacon beginning at 6:30pm. Kick-off is 7pm.
Also at 7pm:
–Mars travels to Indiana
–Karns City will host Moniteau
–Freeport is home to Keystone Oaks
–North Catholic will visit South Side Beaver
–Slippery Rock is hosting Wilmington
–Grove City will travel to Meadville in a big match-up of District-10 playoff contenders
–Union/AC Valley is on the road to Clarion
–Seneca Valley will visit Shaler for a 7:30pm kick-off.
College Football Saturday:
–#2-ranked Penn State will host #19-ranked Michigan for a 7:30pm kick-off. Hear the game on WBUT 1050am beginning with the pre-game at 6pm.
–#17-ranked Slippery Rock will travel to Edinboro for a noon kick-off. Hear the Coach Shawn Lutz show beginning at 11:30am on The Rock Station 97.7fm and 977rocks.com. You can also watch a stream of the game at rockathletics.com.
–Pitt is on the road to face ACC opponent Duke – kick-off is 12:20pm.
–Clarion is hosting #3-ranked IUP – kick-off is noon
–Westminster will travel to Washington & Jefferson – 2pm kick-off.
–Geneva is home to Case Western Reserve at 7pm.
–Thiel is hosting Carnegie Mellon at 7pm.