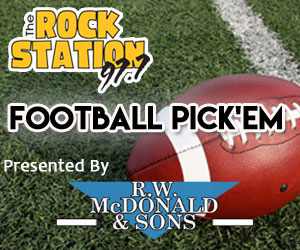 In Thursday Night Football: The Baltimore Ravens blanked the Miami Dolphins 40-0. The Ravens lost quarterback Joe Flacco to a concussion in the first half on a hit by Dolphins linebacker Kiko Alonso. Baltimore improved to 4-4. The Dolphins fell to 4-3.
The Pittsburgh Steelers visit the Detroit Lions for a Sunday Night Football game. Kick-off is 8:30pm. Pre-game on WISR 680am will be 6:30pm. Defensive end Stephon Tuitt will miss the game.
High School Football tonight:
–it is the final night of the regular season for the WPIAL
–Butler will host Canon-McMillan for a 7:30pm kick-off. Pre-game begins at 7:15pm on WBUT 1050am and at wbut.com with Ron Willison and Craig Lucas.
–Knoch will host Mars. Hear the game with Scott Briggs and Dave Bacon beginning at 6:30pm on WISR 680am and at wisr680.com. Kick-off is 7pm.
Also Tonight:
–Seneca Valley at Altoona
–Freeport will visit Valley
–Karns City will host Clearfield
–Moniteau will host Redbank Valley
–Cardinal Wuerl North Catholic will visit Freedom
–Union/AC Valley will is on the road to visit Ridgway/Johnsonburg
District-10 football playoffs begin this weekend. Slippery Rock will take on Harbor Creek at Fairview High School Saturday. Kick-off is 7pm.
College Football Saturday:
–#2 –ranked Penn State is on the road to visit Ohio State. Hear the game on WBUT 1050am beginning with the pregame at 2pm. Kick-off is 3:30pm. The Nittany Lions enter the game 7-0 overall. Ohio State is 6-1. Both teams are 4-0 in the Big Ten.
–Slippery Rock will host Clarion for the annual "Milk Jug" game at Mihalik-Thompson Stadium. Pregame begins at 12:30pm. Kick-off is 1pm.
–Pitt is home to Virginia at Heinz Field at 12:30pm. The Panthers are 3-5 overall, 1-3 in the ACC. Virginia enters the game 5-2 overall, and 2-1 in the ACC.
–IUP is hosting Gannon at noon. The Crimson Hawks are ranked #3 in Division-II and are 8-0.
–Grove City is home to Geneva at 1:30pm.
–Thiel will travel to Waynesburg at 1:30pm
–Westminster is hosting Carnegie Mellon at 7pm.