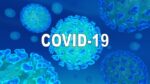 There are now more than 200 confirmed COVID-19 cases in Butler County, as four new cases were announced over the weekend.
Statewide, there are over 62,000 positive cases and now more than 270,000 negative tests.
There have been 4,418 people who have died from COVID-19.
As of Friday afternoon—which was the latest update from Butler Health System officials—the hospital is treating eight patients for COVID-19.
The post Weekend Update: More Than 200 Cases In Butler County appeared first on ButlerRadio.com – Butler, PA.