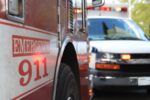 One person was flown to a Pittsburgh hospital after an overnight crash in Clay Township.
The accident happened around 10:15 p.m. near the intersection of Euclid Road and Davis Road when a motorcycle collided with a vehicle.
Dispatcher say the motorcycle driver was knocked to the ground, was unconscious and bleeding from the head.
Emergency crews did say the man was breathing though when they arrived.
According to the West Sunbury VFD Facebook page, the man on the motorcycle was a member of their department who was going home from a training session.
A medical helicopter was called and took the man to a Pittsburgh trauma center.
The post West Sunbury VFD Member Injured In Motorcycle Crash appeared first on ButlerRadio.com – Butler, PA.